Mopar Archive - 1942 to 1945 Chrysler war effort.
Chrysler

Dodge

Mopar Trucks

Other Brands

Plymouth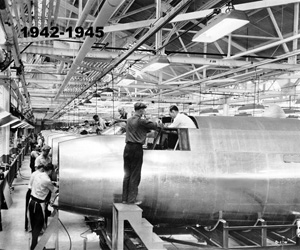 Above: By mid-June 1941, the automaker was purchasing machinery to produce the nose and center fuselage sections for the Martin B-26 Marauder bomber.
1944: All civilian car production ended in 1942 for the duration of World War II. Throughout the war, Chrysler was also involved in the production of aircraft and their engines, watercraft, weaponry, and air raid sirens for the Allied countries, which included the U.S. and Great Britain.
Above: Chrysler advertisement from the 1940's, Horsepower wins wars.
Want to see your Mopar added to 440magnum Mopar Archive? Visit our "Submit Your Mopar" gateway page to get it added to our collection of cool mopars. You can also use this section to update a vehicle that has already been added.
Search The Mopars Of The Month Archive: