Mopars Of Month: January 2002
Archive (Home)

2002

January

Submit Your Mopar

Update Your Mopar
1968 Dodge Charger By Mark S. Evans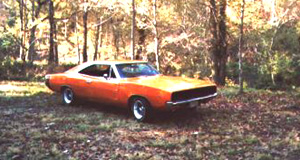 I have a little story for you. When I was 15 I bought a 1968 dodge charger console, air and a 383 hp motor. I sold it when I was 16 it was 1977. Over the years I have had Mopars, Chevys, Fords and Pontiacs. They were fast and sharp but not the same. I even had 3 corvettes 74,84,and a 86 pace car. I have looked over the years for a 1968 charger about 17 years problem like most, has been price or the car was modified to much or missing to many original parts. In 1996 I got a call from guy I meet a mopar show gave him my number about 1997 Nov. I got a call he asked if I was still looking answer was yes. He gave me a number in Alabama, I called and last name of the guy was, would you believe Gore.
I was a little nervous to call, but I did and he sold me a 1968 dodge charger for $3500 running all original showing 23000 miles. I checked the mileage and call the original owner, the mileage was correct. I still didn't believe it until we took the car apart to repair all the parts replaced were factory installed and very little wear on them. This was great I decided at that point no one would touch this car but family in fixing it up. I have replaced all the braking system, fuel tank and lines, Shocks, rear axle bearings that were factory parts still looked like new but replaced anyway safety first, drive shaft u-joints brute force, 727 Tran. just cleaned up and filters and fluid, new Exhaust 2 1/4 all the way out.
We replaced the radiator, hoses, then the big thing this year, I located a 1968 dodge charger 383 motor same numbers and the same set up to rebuild. The crank stock used full groove bearings, block cleaned and cleaned up a 30 over forged flat top 10.5 with sealed power rings, high volume pump, and roller chain, the came is a crane cam 224/234 dur@.050,465/488 lift the heads 906 cleaned heavy springs and valve job changed a little 2.14 intake and 1.88 exhaust stock intake and Carter AVS rebuilt and new Distr. and Taylor wires and factory valve covers and exhaust. Then I went to the interior, new carpet and seats redone with velour inserts. Five wheels all are Tork Thrust wheels 15 X 8.5 with 215/70r/15 B.F. Goodrich tires. The paint is Sunburst-Orange with black bumble-bee stripes painted on, for that year in base coat clear. The platinum pearl was added to the first coat of clear and then recleared twice. Car runs great and is fast, not a drag car, it's a good moonshine car, the car is close to finish but still needs a little more, there's always something to do.
The only out source work was the seats and exhaust. Everything else my family and Dad help me do. I have won two trophy's First place this year at an all mopar show in the under construction class I had install the motor and cleaned car up for the show the motor only had 48 miles on show day. It's a good looking car and a driver, and I can say my family and I have done 95% of the work. I would like you see what I have put together, it's part of our family. I hope you like the photo's. Still have to reinstall the air system will be the last thing under the hood.
Mark S. Evans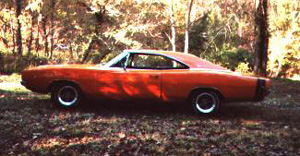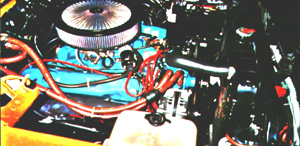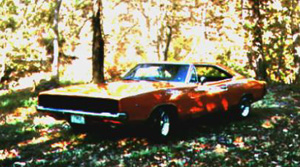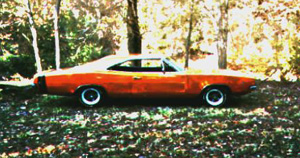 Sponsored Links

Search The Mopars Of The Month Site:

We are always looking for Mopars to add to 440'S Mopars Of The Month. To participate you must own a Mopar of some kind. (Dodge, Chrysler, Plymouth, Desoto, Amc, Jeep, Dodge Truck, etc.) It can be your daily driver or your mopar race car or maybe your mopar show car it does not matter WE WILL POST IT ! Submit Or Update Your MoparMopars Of The Month Archive