The Mopars of the month is a unique collection of featured Chrysler, Dodge, Plymouth, and Mopar-related vehicles. These rides are submitted each month by visitors of the 440magnum Mopar Enthusiast Network. Started in 1996, this is the original online Mopar show. Own a classic or modern Mopar car or truck? We are always looking for Mopars to feature.
Below are the current winners for December 2023: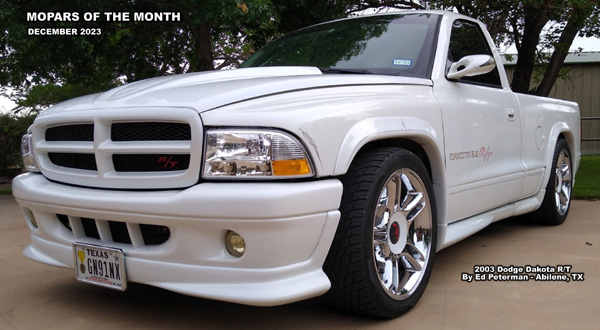 Latest Featured Mopars – Our latest featured mopars section contains a collection of cars & trucks added to the site in the last few months. To date 5699 mopars have been featured, will yours be next?

Mopars Featured In The Past – The archive contains the complete collection of Mopar-related cars and trucks featured on our network from 1998 to last month. This section contains thousands of Chrysler, Dodge, Dodge Truck, Jeep, Plymouth, RAM Truck, and other related mopars submitted by our visitors over the years.

Own A Mopar? – Want to see your Mopar featured on the Mopars Of the Month site? Visit our "Submit Your Mopar" section to get it added to our collection of cool mopars. You can also use this section to update a Mopar that has already been added.
Mopar stuff

Mopar Screensavers – The best unique collection of free downloadable high-definition widescreen screensavers. The section includes two complete series of enthusiast savers. One featuring Mopar-related cars and the other featuring trucks.

Mopar Wallpaper – The best collection of high-definition desktop wallpaper featuring Mopars. Built from photos submitted by visitors, the section includes both classic and modern cars and trucks. All the desktop wallpapers are downloadable and free. Available in many popular sizes for PC, Phone, Mobile Device, Tablet, HDTV, and more.
For more Chrysler, Dodge, Plymouth, and other Mopar-related screensavers and wallpaper visit the main 440magnum Mopar Enthusiast Network site.