Mopars Of Month: March 2002
Archive (Home)

2002

March

Submit Your Mopar

Update Your Mopar
1973 Dodge Charger Emailed By Tim Vancura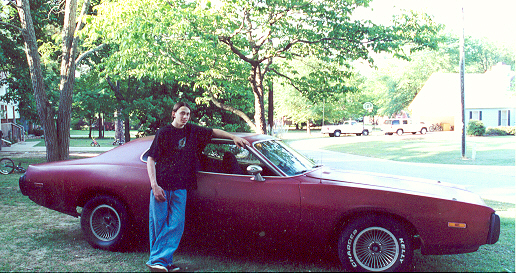 440MagnumNetwork, I would like to submit my car for the Mopar of the Month slot on your website. My description is as follows:

Here is a picture of my 1973 Dodge Charger. This is about a year ago, and thatís me, standing next to it. Itís completely torn down now, getting a rebuild from the ground up. I bought this car on Sept. 11, 1999 for $500, and the only thing it needed was a tranny rebuild. Needless to say, $440.98 later, I drove it home. Currently, the car is no longer a small block grocery getter, and hasnít been for some time. Several months after the small block died on me, I bought a 74í Chrysler New Yorker for $350, with a running 440 in it. I drove the car home, pulled the motor, and started the rebuild. (Thanks Dad!) When everything was done, I had one sweet ride! The motor was a pain to get in the car; the headers hit the torsion bars, steering column, and the inner fenders. With a few mods, and a lot of effort, we managed to squeeze everything in. The car, since that time, has had the motor in and out for so many reasons.
Itís been one thing after another. I had the engine overheat, leaving me with a cracked cylinder head, I added a MONSTER cam, Pete Jackson gear drive (which my father hates), and to replace the ever-low hanging oil pan that I smashed to Hades ($200 down the drain Ė GAME OVER MAN). But despite all the mishaps, the car has given me more pleasure than pain. (Except when that 727 Torqueflite fell on my head! Ouch!) But now the time has come, and I want to do it up right. The motor is being bored and stroked, the car, tubbed and narrowed in the rear, and all going back together one last time. I hope to finish the project by the beginning of next year, but you know how those ďprojectsĒ go. My parents have given up on me getting rid of it. They are tired of seeing me dump money into it left and right, and now, theyíve just given up. I thank them though, for putting up with my torment and selfish pride, but like I told them before, I could spend my money on crack. Thanks for checking out my car, and Iíll have updates in the picture gallery soon! Take care, and keep emí smokiní! Well, thatís it. Feel free to post my car in the picture gallery. If my description above is missing any info, my car is a 1973 Dodge Charger (standard model) with a 440 4bbl and 727 Trans. I appreciate any consideration in having my car appear as Mopar of the Month, and look forward to hearing from you should it make itís way to that position. I enjoy your website and visit it daily. Check the message board, and youíll see me there! Thanks again!
Tim Vancura
73440Charger
Sponsored Links

Search The Mopars Of The Month Site:

We are always looking for Mopars to add to 440'S Mopars Of The Month. To participate you must own a Mopar of some kind. (Dodge, Chrysler, Plymouth, Desoto, Amc, Jeep, Dodge Truck, etc.) It can be your daily driver or your mopar race car or maybe your mopar show car it does not matter WE WILL POST IT ! Submit Or Update Your MoparMopars Of The Month Archive