Mopars Of Month: January 2003
Archive (Home)

2003

January

Submit Your Mopar

Update Your Mopar
1966 Dodge Charger By Anthony Drane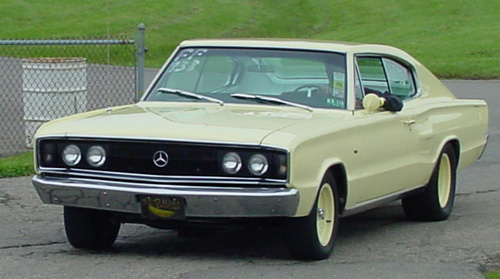 `The Banana' as my three children have named it, is a 70k mile 1966 dodge charger. It left the factory, RR1 yellow with a white interior. 361, auto, air, ps, and power brakes. The a/c still worked 6 years ago when I bought it! it was a Florida car and had very little rust. It had, however been painted 6 times. After stripping all the paint and repairing damages, I painted it in my basement garage. ( I have a very understanding wife.) The original motor is on a motor stand w/a spun bearing. it now has a 400 with chrome rocker shafts and heavy duty rockers, a 510/292 racer brown
cam, torquer intake with a 650 Holley DP with mechanical secondarys. Hedman Headers w/crankcase evac. set up. and 2 1/2 in. flowmasters.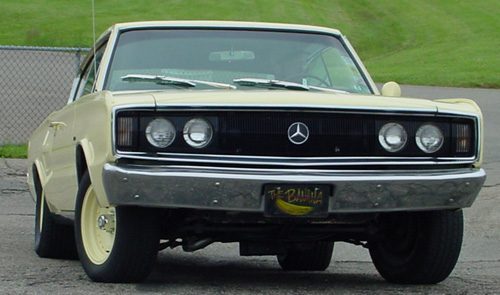 A 2800 j and w converter spin a 742 w/391:1 r&p. Tires are 215 r 70 up front and 295 r 50 out back. Wheels are anybody's guess 7 & 8.5 swap meet trophies. The instrument. cluster has been completely refreshed and glows beautifully! When Chrysler and Benz merged, my cousin sent me a grill emblem as a joke, it fit the jokes on him. Never ask a mopar guy to tell you a little about his toy, it cant be done!
Thanks, Anthony Drane
Sponsored Links

Search The Mopars Of The Month Site:

We are always looking for Mopars to add to 440'S Mopars Of The Month. To participate you must own a Mopar of some kind. (Dodge, Chrysler, Plymouth, Desoto, Amc, Jeep, Dodge Truck, etc.) It can be your daily driver or your mopar race car or maybe your mopar show car it does not matter WE WILL POST IT ! Submit Or Update Your MoparMopars Of The Month Archive