1973 Dodge Charger Rallye By Grant Aston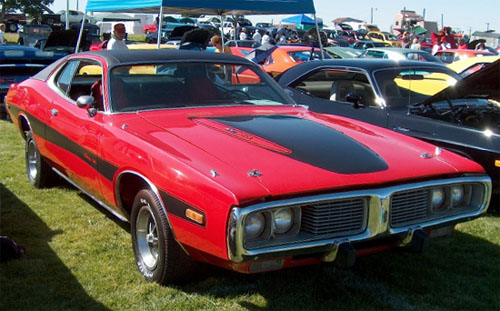 My Prozac Mopar. Working on this car kept my sanity through a nasty divorce and has helped with me with a midlife crisis. When I purchased it two years ago from an ex neighbor it had been sitting outside under a tattered tarp for many years. The hypo 340 had been blown up. It had been replaced with a 440 and 727 tranny from a 1977 police interceptor. There were rust bumps all over under the vinyl top but it was in a drivable condition.
I pulled the engine and found a worn out timing chain, valve guides, water pump, engine bearings, cam, etc... The cylinders however were in really good shape. I did the engine rebuild in my garage. Adding a steel crank, Keith Black hyperutectic 11:1 compression pistons, Total seal moly coated rings, Comp cams High energy cam kit for a decent lope. I sold the old heads and bought a freshly rebuilt pair off Ebay and then ported them per the mopar performance porting templates, back cut the valves, installed the stiffer valve springs that came with the cam kit!, Added Proform roller rockers with shafts and installed Crane cams chrome molly push rods. I modified the cam to provide more oil to the rocker shaft, and added a High volume oil pump. A Holley 850 double pumper on an Edelbrock torker II intake feeds the beast with an average of 13 mpg. I rebuilt the tranny (my first one) and added a 2800 rpm stall converter.
This combination is very drivable and I can still run my A/C and power brakes. It desperately needs a sure grip and wider rear tires. I did all the body work myself. I painted it in my garage and color sanded the E5 base/clear polyurethane paint, This is the third car I have painted, and installed the new Vinyl top. The car used to be black with a graduated red orange rallye stripe down the sides. I think the red is much better looking. The pics of it are at the local car show. It was the first time I had ever entered a show and it was the only example of a third generation Charger there out of over 800 cars. There were a lot of "cookie cutter" cars there (Mustang's, Camaro's, Chevelle's,
etc...) but mine seemed to get more attention. The judges said that when I get the interior finnished it might just win an award.

Grant Aston - Brigham, Utah
P.S. This is my first mopar and it will NOT be my last. Your web site helped a lot with this project, Thanks.
Click Here For More Picture's Of Grant's Cool Charger Rallye!
Sponsored Links

Search The Mopars Of The Month Site:

We are always looking for Mopars to add to 440'S Mopars Of The Month. To participate you must own a Mopar of some kind. (Dodge, Chrysler, Plymouth, Desoto, Amc, Jeep, Dodge Truck, etc.) It can be your daily driver or your mopar race car or maybe your mopar show car it does not matter WE WILL POST IT ! Submit Or Update Your MoparMopars Of The Month Archive