Mopars Of Month: February 2004
Archive (Home)

2004

February

Submit Or Update Your Mopar
1972 Dodge Charge SE By Simon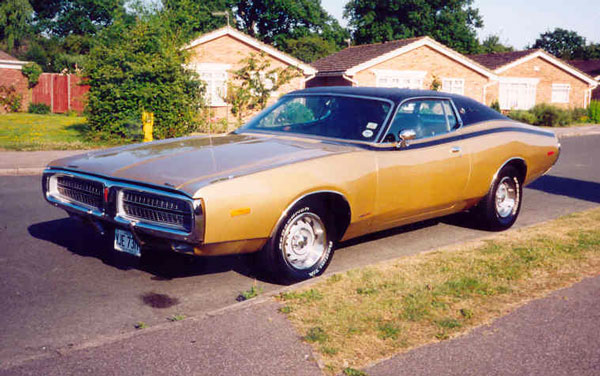 This is my 1972 DODGE CHARGER SE, I have owned the car since December 1994,the first time
i saw the car (just before i handed over the cash for it!) I was amazed at the shear size of it, and 3 years ago started the job of restoring it, when I bought it the car it was Daytona yellow with crager chrome wheels, after 6 years of trouble free cruising the body work was showing some signs of a need of repair, I stripped the car back to bare metal including boot, inner doors, and engine bay, I repaired some of the rust areas myself by making patch panels, and the panels I couldn't make I got from yearone, while the car was at the body shop, I had the front and rear bumpers, door mirrors rechromed, a massive order to yearone was put in for new parts, one being a set of ralley wheels, ebay, and the mopar muscle association UK was the source of other parts i needed to bring the car back to near new condition, the numbers matching 400 block had been in my garden for 5 years with weeds and all sorts of garden creatures growing through it, after many hours cleaning it, it had a +30 rebore, keith black pistons, and a mild elderbrook cam, the four barrel thermoquad carb was overhauled, the engine was rebuilt and sprayed the original powder blue, I spent many hours stripping and
repainting all engine components. Now the car is finished I love the new look, this was the vision I had in my head when I started the restoration, you cant put a price on that. "happy moparin".
Thanks,
Simon
Horley, UK
Sponsored Links

Search The Mopars Of The Month Site:

We are always looking for Mopars to add to 440'S Mopars Of The Month. To participate you must own a Mopar of some kind. (Dodge, Chrysler, Plymouth, Desoto, Amc, Jeep, Dodge Truck, etc.) It can be your daily driver or your mopar race car or maybe your mopar show car it does not matter WE WILL POST IT ! Submit Or Update Your MoparMopars Of The Month Archive