Mopars Of Month: September 2005
Archive (Home)

2005

September

Submit Or Update Your Mopar
1968 Dodge Coronet 440 By Eric Gebert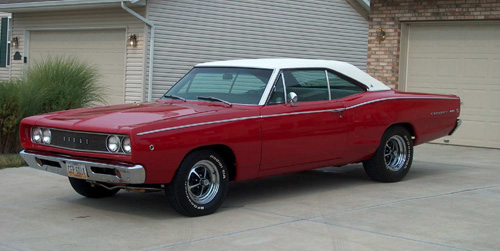 The body was restored to its original trim and color scheme, PP1 red w/white top & interior. The reliable 318 was swapped for a warmed over 440 w/Edelbrock heads, RPM intake, .484 purple cam, 10.0:1 KB flat top hypereutectic pistons, MSD 6AL & coil, 1-7/8 TTI ceramic coated headers empty into 2 1/2" X-pipes w/Dynamax mufflers. The 727 was built w/a 7 red line clutch pack, new planets and sprags, kevlar bands, deep pan, shift kit, and Turbo Action tight 10" converter. A 3.55 SG handles the torque and P275/60SR15's put it to the pavement.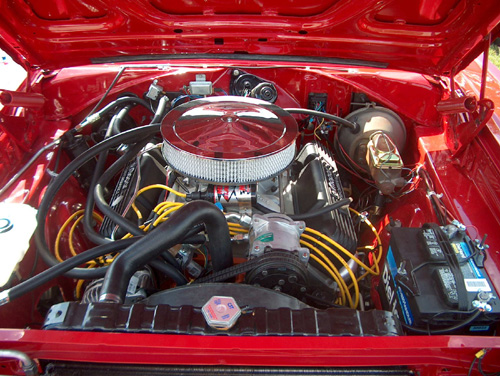 For drivability, front discs replaced the drums and a front sway bar was added. A 4-core factory style radiator and small trans cooler keep it from overheating. A Sandon A/C conversion kit replaced the factory unit. A firm feel steering box replaced the loose factory box. AutoMeter gages monitor the water and trans fluid temp as well as the oil pressure. The factory gages were plumbed to work in conjuction with them. New brake lines and fuel lines/tank were added before the car came off the rotisserie. Stock hemi/6-pk torsion bars and bias leaf springs were used as the new suspension was bolted to the car.
It took a total of 3 years for the restoration. Every single piece of the car was either restored or replaced. It made its debut at this year's Nats in the Fun Field, less than a week after moving it under its own power. It drove 2 1/2 hours each way without any problems.
Eric Gebert - Liberty Twp, Ohio
Sponsored Links

Search The Mopars Of The Month Site:

We are always looking for Mopars to add to 440'S Mopars Of The Month. To participate you must own a Mopar of some kind. (Dodge, Chrysler, Plymouth, Desoto, Amc, Jeep, Dodge Truck, etc.) It can be your daily driver or your mopar race car or maybe your mopar show car it does not matter WE WILL POST IT ! Submit Or Update Your MoparMopars Of The Month Archive