Mopars Of Month: September 2005
Archive (Home)

2005

September

Submit Or Update Your Mopar
1974 Plymouth Barracuda By Burt & Sue Brown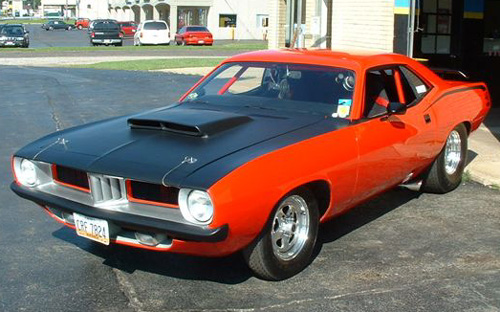 440Magnum, here is a picture of our Prostreet 1974, cuda. It has a very mild 440 cu in with 6 pack rods but our 400 HP Big Shot NOS wakes it up. It has a 440 cu in, .509 cam, 5000 stall converter, 4:88 gears, 33" X 15" X 15" rear tires. The 440 is backed by a Burt Brown Racing Transmissions 727 Torqueflite with a Trans-Brake to make serious hole shots.
Thanks,
Burt & Sue Brown of Burt Brown Racing Transmissions
www.burtbrownracingtrans.com
Burt & Sue's Cuda was originally featured in December 2001 Click Here to check it out.
Sponsored Links

Search The Mopars Of The Month Site:

We are always looking for Mopars to add to 440'S Mopars Of The Month. To participate you must own a Mopar of some kind. (Dodge, Chrysler, Plymouth, Desoto, Amc, Jeep, Dodge Truck, etc.) It can be your daily driver or your mopar race car or maybe your mopar show car it does not matter WE WILL POST IT ! Submit Or Update Your MoparMopars Of The Month Archive