Mopars Of The Month - March 2009
1971 Dodge Demon Sizzler By Bryan McLaughlin
Submitted via 440'S MyDodge.com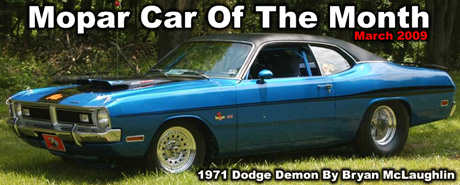 Mopar Car Of the Month March 2009: My first name isn't Chip or Boyd. I'm just someone that works hard for a dollar. I found this 1971 Dodge Demon in 1999. The car was a mess!!!!! The whole front end was gone, the quarter panels were full of bondo and the inside was totally gutted. I saw potential in the parts that were in boxes to use to upgrade the drag car I had at that time. I worked out a deal with the owner and towed the Demon home that day. After I got home and checked all the boxes of parts, I found the fender tag. I ran the numbers and found out it was a hard-to-locate Demon Sizzler. At that point I decided this car should be kept in tact as much as possible.
Since it couldn't be restored back to original because of the missing parts, I decided to modify it to a Pro Street Sizzlin Demon. After saving money to buy parts, the work began. A friend gave me a 400 Magnum motor and a 727 automatic transmission to use as my power plant. From there I started building. I used the motor and transmission to do mock up for proper alignment. I saved money and I spent money. There were many frustrating times when it came to fitting parts and making modifications with new parts and old parts going together. There were times when I wanted to give up but as I saw progress being made, like when I fabricated the wheel tubs to accommodate the 33" tall 21 1/2" wide Mickey Thompson tires, I kept going.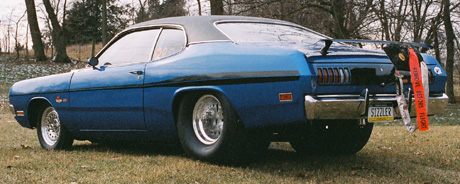 I never wanted to pay professionals to build this car for me. This was my project and I wanted the proud feeling of doing the work myself. Seven years in the making, I now have a 1971 Dodge Demon Sizzler Pro Street painted with 2000 Dodge Intense Blue with factory stripes and decals. It has a 400 Magnum stroked to a 451 with 563 horses. I installed the black vinyl top, upholstery and carpet myself. I was the winning bidder on e-Bay for the OEM snorkel hood scoop for the added touch to the hood. The body is all genuine Mopar parts. There are no after-market pieces on this body. The best part of the whole project is cruising down the road with the AM radio on while I reminisce about how it looked the day I towed it home AND how I proved my wife wrong because she thought I would never get it finished!

This is want this Dodge Demon looked like when I found it in 1999.
Bryan McLaughlin - Shippensburg, PA
For more information and photos of Bryan's Dodge Demon Sizzler: 1
2