Mopars Of The Month Archive - October 1998:
Saturday, 31-Oct-2020 08:38:52 EDT
Home

1998

October

Submit Or Update Your Mopar
Mopars Featured In October 1998: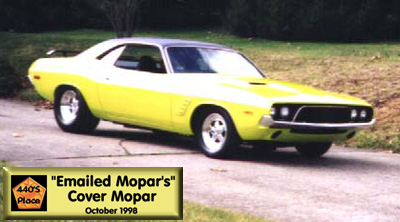 Above: 1973 Dodge Challenger Rally by Rob Valentine He swapped the 318 for a 1968 440 HP motor, it has 520 horsepower. The tranny is a 727 with manual valve body and a 3800 TCI converter. The rearend is a 8-3/4 with a sure grip and 4.10 gear. The car is Citron Yellow with a black vinyl top and black interior. Rob's Challenger recently ran a 12.29 @ 110.1 with street tires.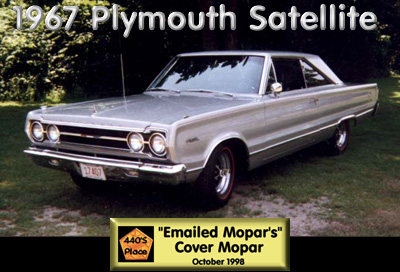 Above: Well it took 10 years of waiting for the nice old lady to part with this car, she would not sell. Then one day I saw her name in the obituaries in the local paper, not knowing what to do, I mailed a letter to her address. Her brother called and said nobody in his family or relatives wanted the car because it was to old. Well we stuck a deal and its finally mine. it has only 33,000 miles and still has mostly all of the factory original parts, 318 runs great, though I wish she ordered a hemi. This car really turns heads and is many times a show winner. By Plym467@aol.com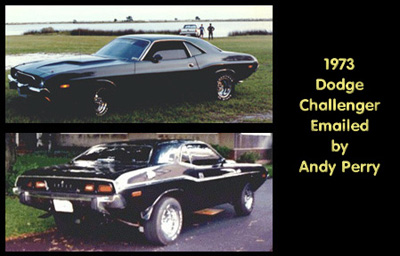 Above: 318-4V, dual exhaust, and a B&M shift kit. The car only has 55,000 miles on the clock and is in great condition. He purchased this car in Hawaii in 1989 when Uncle Sam sent Him there for 3 tough years of overseas duty for the U.S. Air Force!! (Hawaii,Air Force, and "tough duty" in the same sentence?) The motor had just been redone with a nice, small but rumbly, cam, 9.5 to one pistons, a little head work, of course a double row timing chain, a nice H.P. oil pump, and a few other small bolt ons. The only problem was the previous owner was starting to have trouble with it stalling after 10-20 minutes of driving, and it would not restart till it cooled down no matter what you did to it! Well, He just happened to have the very same problem with my very first Mopar in high school, (a 71 Challenger w/a 383)...but that is a another story. So after days (minutes) of coming to an agreement on the price, He handed over a grand total of $900 and drove it back to base. He then had a buddy take him to the nearest auto parts store where He bought a $5 ballast resister and the rest is history!!!!!!! He has now placed a 440 in between the fenders and He is in the process of finishing that project. It just goes to show that all the good deals are not gone, but it helps to be in the right place at the right time.

Above: 1979 Plymouth Road Runner with T-Tops By Aaron Frilling.
Mopars Featured In The Past: Home

Our archive contains the complete collection of mopar related cars and trucks featured on our network from 1998 to last month. This section contains thousands of Chrysler, Dodge, Dodge Truck, Jeep, Plymouth, RAM Truck and other related mopars submitted by our visitors over the years.
Own a Mopar? Home

Want to see your mopar featured on the Mopars Of the Month site? Visit our "Submit Your Mopar" section to get it added to our collection of cool mopars. You can also use this section to update a Mopar that has already been added.
Search The Mopars Of The Month Site:
Sponsored Links: