Mopars Of Month Archive: Home
2004

January

Submit Or Update Your Mopar
1969 Dodge Daytona By Dave Kanofsky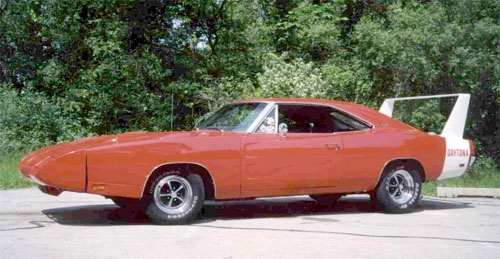 Hey 440Magnum,
I'm sorry I haven't been in contact for a while, you still have a lot of pictures of my (now sold) Petty Blue SuperBird on your site, and my (sold in 1997) Hemi-Orange '70 SuperBee. I sold the SuperBee to buy the SuperBird, and I sold the SuperBird to buy my dream car, a 1969 Charger Daytona!
I was just reading Dane Gjesdal's story on how his Daytona broke down in front of a museum that had a car in it just like his, here's a funny twist, I now own the car that was in the museum! It's an R4 red, white wing, black interior Daytona. Numbers matching 440 4bbl and automatic on the console. It was in Wheels and Spokes Auto Museum in Hayes, KS from '80-'97. It went through a number of dealers and brokers until I picked it up in December of 2002.
It is absolutely rust free everywhere. I drove it all over this past summer, and I'm having it painted (R4 again) over this winter. I had it at the Winged Warriors Annual meet, and the Daytona SuperBird Auto Club Annual meet this year. Next year we're taking it to the Reunion at Talladega, and the Charger Meet in Racine, WI, along with local shows around
Chicago. I have the build sheet and window sticker for the car as well. I have had the dash signed by Ray Nichels, Terry Nichels, Paul Goldsmith, and Sterling Marlin. I have pictures of each of them in the car while signing it.
Happy Holidays!
Dave Kanofsky
Sponsored Links

Search The Mopars Of The Month Site:

We are always looking for Mopars to add to 440'S Mopars Of The Month. To participate you must own a Mopar of some kind. (Dodge, Chrysler, Plymouth, Desoto, Amc, Jeep, Dodge Truck, etc.) It can be your daily driver or your mopar race car or maybe your mopar show car it does not matter WE WILL POST IT ! Submit Or Update Your MoparMopars Of The Month Archive