Mopar Screensavers

Trucks

Version 6

Download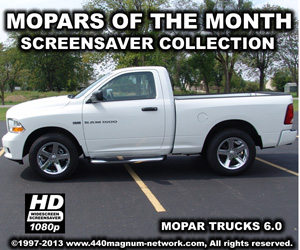 Thanks for downloading a Mopar screensaver from the Mopars Of The Month site.
File: Mopar Trucks Version 6.2, released December 21, 2020
Please Note: Mopars Of The Month "Mopar Trucks" Screensaver 6.2 was created by The 440magnum Mopar Enthusiast Network and is the property of the 440magnum Network and all related files and documentation is © www.440magnum.com, All rights reserved.
All other trademarks or registered trademarks mentioned are the property of their respective owners. This Screensaver is free for your personal use at home or work. It may not be posted to other websites or used in any other way without permission from the 440magnum.com web site. By downloading this screensaver you agree to abide by these terms. This software is provided "as is" and as all software extreme caution should be used when installing it on your system.
I agree, please download the Mopar screensaver file:

(By clicking on the download button, means you agree with the above terms)
Visit our help section for more information on installing and using HD screensavers from the Mopars Of The Month site.
The installation program performs the following functions:
Adds a new program group to your Start Menu.
Adds an uninstall utility within the program group to allow you to easily remove the screensaver at any time.
Adds a desktop icon to start the screensaver instantly at any time.
Allows you to choose the screensaver as your default Windows screensaver.
Want to have your Mopar considered for one of our screensavers, we choose our desktop wallpaper and screensaver images from Mopars submitted to our network. Visit our help section for more information on submitting your Mopar.