Mopars Of Month Archive: Home
1999

August

Submit Or Update Your Mopar
1970 Dodge Challenger T/A By Randell Waring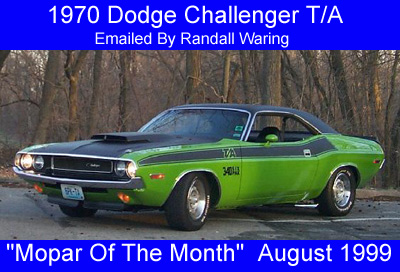 This Is My Mopar:
Hello there, I LOVE your page, and think its among the best Mopar pages on the 'net...:) I'm sending along a couple of pics of my 1970 Dodge Challenger T/A, that I thought you might like to include in your "e-mailed section, and monthly judging."
Description as follows: 1970 Dodge Challenger T/A, Color: Green-Go (Code FJ6), Original 340 six-pack engine, Original Slap-stick auto, posi-traction, Fast Ratio steering option, 3:55 gears, "Numbers Matching", Fully detailed exterior, interior, trunk, engine bay, undercarriage.
My life's dream is to acquire a 1970 Challenger R/T...and turn it into the true "Vanishing Point" car...from the movie of the same name. I just haven't been able to find the R/T the matches the requirements and condition. So, the wife and I purchased this T/A...due to the stunningly professional way in which it was fully rebuilt. Now we're not so sure we ever want to give it up! But, we DO keep R/T searching...
We are located just outside of the St. Louis, Missouri area...Thanks! And will you send me a quickie mail, just to let me know the pictures came through OK?
Randall Waring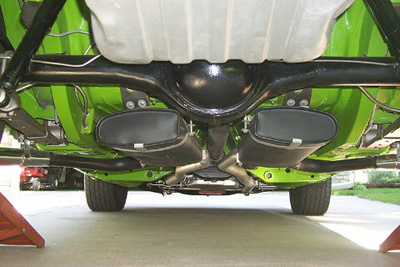 Search The Mopars Of The Month Archive: