Mopars Of Month: October 2000
Archive (Home)

2000

October

Submit Or Update Your Mopar
1969 Plymouth Road Runner By David Kincaid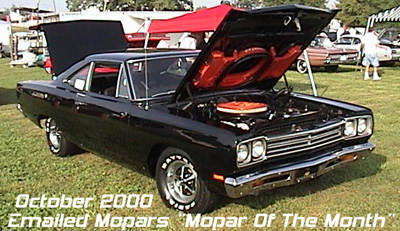 Here's info on my 1969 Plymouth Road Runner:
Triple Black - (original Black Car)
383 Road Runner Motor, 727 Auto Trans w/ console, Bucket Seats, Dash Tach, Decor Package, Power Steering, High Performance Axle Pkg. w/ 3:91 Gears, Heavy Duty 26" Radiator, Air Grabber Hood
I've been restoring the car since 1989 and completed it in 1998 the night before the Mopar Nats. in Columbus. It's first time out was from the motel to Brice Road. We have attended
many shows since then and have had lots of fun cruising and showing. Our car placed First in Class at the Mopar Muscle Southern Classic in 1999 and just placed Second in Class at the 2000 show. Special thanks goes to David Webb owner of Odies Rod Shop in Nicholasville
Kentucky for the fantastic paint job he did on the car. Also thanks for putting a picture on you web page of our car at the 1999 Nats !!
Thanks,
J. David Kincaid RCDD
Commonwealth of Kentucky
Governor's Office for Technology
Office of Infrastructure Services
Communications Installation and Support Branch
Frankfort, Kentucky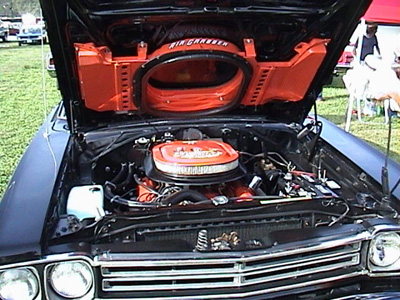 Search The Mopar Archive:

We are always looking for Mopars to add to 440'S Mopars Of The Month. To participate you must own a Mopar of some kind. (Dodge, Chrysler, Plymouth, Desoto, Amc, Jeep, Dodge Truck, etc.) It can be your daily driver or your mopar race car or maybe your mopar show car it does not matter WE WILL POST IT ! Submit Or Update Your MoparMopars Of The Month Archive