Mopars Of Month Archive: Home
2004

January

Submit Or Update Your Mopar
1969 1/2 Plymouth Road Runner By Marcel Jubinville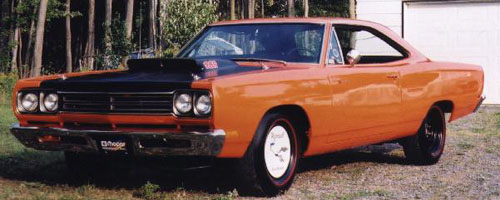 This is my Mopar:
I'm the owner of three mopars. The first I bought is my 1969 1/2 Plymouth Road Runner with 503 six pack over 500hp. The only modifications on it are the engine, the exhaust system and a 2.76 gear. We tried to keep the rest of the car all original. Maybe one day I will put back the original 440 six pack in it. It has been repaint one time back in 1978. His best time on 1/4 mile is 11.89 on street tires.
Marcel Jubinville - Quebec, Canada

Marcel also has a 1974 Dodge B100 Street Van and a 1970 Plymouth Hemi Cuda clone featured this month.
Search The Mopars Of The Month Archive: