Mopars Of Month: January 2006
Archive (Home)

2006

January

Submit Or Update Your Mopar
1970 Plymouth Road Runner By Jim Burnette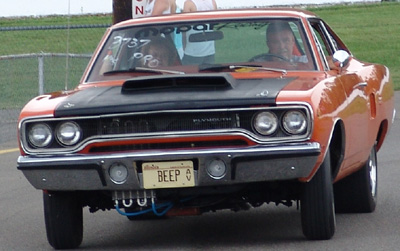 Owner - Jim Burnette - Lake Villa, IL

Make/Model - 1970 Plymouth Roadrunner

Engine - 440 based RB Motor stroked to a 493 using an Ohio Crankshaft kit, Stage VI Mopar
Performance Heads, M-1 Intake, Quick Fuel 950 Carburetor, Cast block and 2' to 2 1/8' step
headers.

Transmission - 727 Torqueflite - Reverse Valve Body - Transbrake - Prepared by Joe
Christman of Tranzact.

Rear End - 8 3/4 with 4.10 Gears.

Rear Tires - M/T ET Street 26/10.5/LT/Weld Draglites

Front Tires - Pro Trac Front Runners/Weld Draglites

Paint - Jim Burnette
Car was a daily cruiser till we installed the stroker motor and we went racing in the no power adder King of Street Muscle Street class in 2005. We will be running next year in the new Pro Max Fastest Street Car class which is also Muscle Street. Car ran a best of 10.81 before hurting the motor at the last race of the year in 2005. It will be out for the first race in Rockingham April 14-15, 2006 breaking new PR and hopefully no parts.
Jim thanks his sponsors: Encotech Construction, Rod & Custom Wax, Chicago Connection &
VHEPOWER.COM.
Click Here for more picture's of Jim's Cool Road Runner!
Search The Mopar Archive:

We are always looking for Mopars to add to 440'S Mopars Of The Month. To participate you must own a Mopar of some kind. (Dodge, Chrysler, Plymouth, Desoto, Amc, Jeep, Dodge Truck, etc.) It can be your daily driver or your mopar race car or maybe your mopar show car it does not matter WE WILL POST IT ! Submit Or Update Your MoparMopars Of The Month Archive