Mopars Of Month Archive: Home
2017

October

Submit Or Update Your Mopar
1965 Dodge Coronet 440 by George Marquise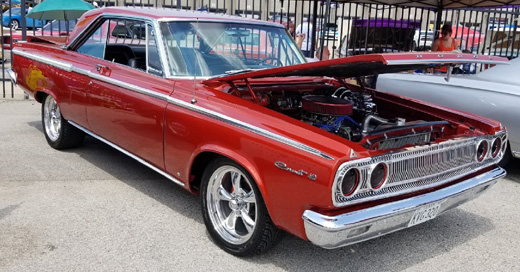 Here's my 1965 Coronet 440 mild Resto Mod. Features a non original 440, 727, 3:23 surgrip with a host of extras including:
Magnum Force 2" drop spindles, red powder coated double adjustable tubular upper control arms with heim joints, 1.03 Torsion bars, PST greasable lower control arm pivots, PST greasable adjustable strut rods with heim joints, solid aluminum tie rod adjusters, remaining bushings are red polyurethane, slathered with Super grease, Hellwig front/ rear anti sway bars, front disc brake conversion,Bilstein RCD Racing shocks at all four corners, chrome 8" power master cylinder, 4 row all aluminum radiator/ dual electric fans, durale controlled,B&M trans cooler with SS braided lines, complete March serpentine belt/ pulley system, March chrome power steering reservoir, PowerMaster alt./ starter,MP electronic dist. with chrome ecu, tti thermal barrier inside, polished ceramic coated outside 2" headers, tti 3" complete exhaust with "X" pipe,Flowmaster delta flow mufflers, Quick Fuel 750 cfm vac secondaries,Mopar Performance, torque strap, windage tray,high rise aluminum intake, aluminum water pump/housing, Melling high flow oil pump/with Hemi spring, milodon 7 at. deep sump oil pan, comp roller rockers, M/T vintage rocker covers, K&M oil baffle/ top hat air filter,....professionally built 727, custom built 3000 stall convertor, Caltrac traction system , 17" chrome American Racing wheels with GoodYear Z rated radials, smoked black flat headlights with 3600 lm LED bulbs,CCFL "devil rings", dual red Hella horns, vintage power antenna.
The interior is all new with Legendary "500" door panels,seat covers, carpet, Hurst solid aluminum pistol grip shifter with console, vintage Sun tach, water, volt gauges, vintage 45 yr. old aluminum/ walnut steering wheel originally from a DMV driver simulator ( original Chrysler part ) led bulbs in dash cluster, Sun gauges,, interior lights.
On the outside the custom mixed paint includes the "GodSmack Sun" on the hood in "flip-flop" paint, changes colors as you walk around the front end, second hood is flat black and has the '64-'65 super stock Hemi hood scoop with faux hood pins. I'm sure I left something out, and it's never "done". Always adding, improving, etc some things to come : I have the correct console for this car, and also a "one of" shifter I made, which is a Hurst dualgate that I grafted an original e body pistol grip into... now I need to graft into the console.... The car "deputed" after about a eight year absence
George Marquise - Fort Worth, Texas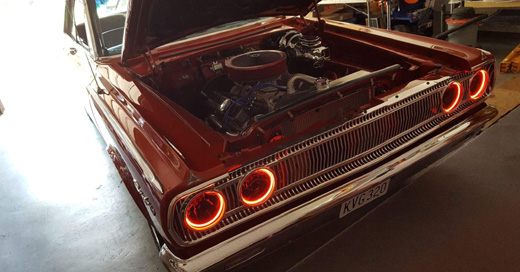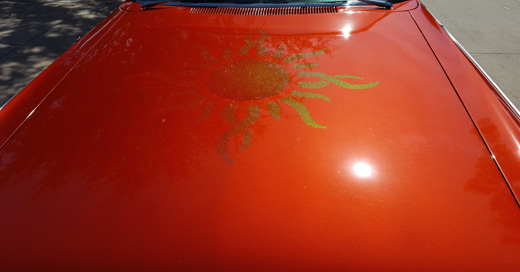 Search The Mopars Of The Month Archive: