Mopars Of Month Archive: Home
2022

February

Submit Or Update Your Mopar
1971 Dodge Super Bee By Jeff Erwin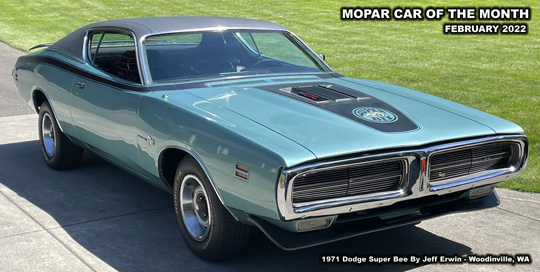 Mopar Car Of The Month February 2022:
1971 Superbee. Originally a 383/727 car it was fully restored in 1990 and the engine was replaced with a 1970 440 6-pack. Original color was GA4 and when restored that was the color they used.
When I found the car it had been sitting in a warehouse in the Southwest for about 10 years. While it did run the brakes were shot, carbs were in very bad shape, lots of oil leaks etc. The vacuum system had been removed as well. However the body and paint were in near-flawless condition making this a much easier process to get it back on the road.
Today the engine runs perfectly, transmission is tight, new brakes from the master down and tons of other misc work like putting the vacuum system back in place. I had to rewire the entire car because of a previous short creating bundles of damaged wires. Now even the heater works!
Jeff Erwin - Woodinville, WA
Search The Mopars Of The Month Archive: