Mopars Of The Month Archive - August 1998:
Wednesday, 07-Jun-2023 18:57:30 EDT
Home

1998

August

Submit Or Update Your Mopar
Mopars Featured In August 1998: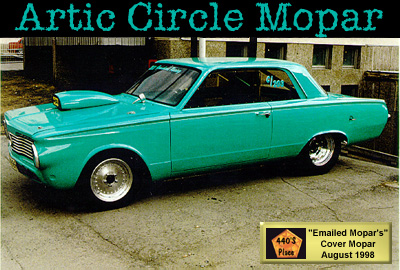 Above: Here's my Plymouth Valiant Signet '65 streetracer. I live near the Arctic Circle in Finland/Europe. I've done over 1000 hours work last winter with this piece of Pentastar Power. Current engine is 360 cid with TRW 11,5:1 forgeds, Racer Brown mechanical cam, 276 @ 0.50", 590"/550" lift. W-5 aluminum heads and Moparperf M-1 sp intake topped with 750 cfm DB Holley. Fenderwells are selfmade and 1 7/8" dia. Spark is given by MSD 7 al and everything is controlled from Autometer gauges. A-1 8" torgue converter and Cheetah manual valve body takes care of moving the power to the 8 3/4" rear with 4.30 gear, Strange spool and Moser axles. This is my old and tired sparemotor cause I blowed my 340 to the wind... This plant makes "only" 385 hp measured from the reartires and carries this combination in 11.2 sec/120 mph to the quartermile distance. I'm building a new 360 with aluminum rods, Venolia pistons and rollercam for my racing purposes. Hoping to cut off a second from my ET. Please email me your thoughts while I keep watching out the reindeers on my way. Tero Rojola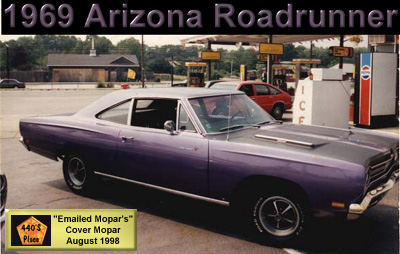 Above: Joe Lapre's 1969 Plymouth Roadrunner w/a 383 Magnum engine.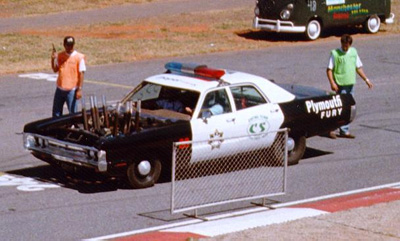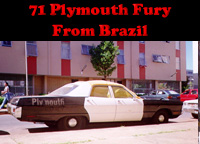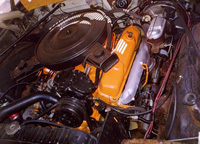 Above: Above: This is my 71 Plymouth Fury I VIN# PK41T1D276441 with 440/4,torqueflite A727 and 8.3/4 sure-grip rear, and 67.000miles. This car is an older Patrol Car of USA consulate in Brazil - Murilo Radicchi
Mopars Featured In The Past: Home

Our archive contains the complete collection of mopar related cars and trucks featured on our network from 1998 to last month. This section contains thousands of Chrysler, Dodge, Dodge Truck, Jeep, Plymouth, RAM Truck and other related mopars submitted by our visitors over the years.
Own a Mopar? Home

Want to see your mopar featured on the Mopars Of the Month site? Visit our "Submit Your Mopar" section to get it added to our collection of cool mopars. You can also use this section to update a Mopar that has already been added.
Search The Mopars Of The Month Archive: