Mopars Of The Month Archive - July 1998:
Wednesday, 07-Jun-2023 19:37:24 EDT
Home

1998

July

Submit Or Update Your Mopar
Mopars Featured In July 1998: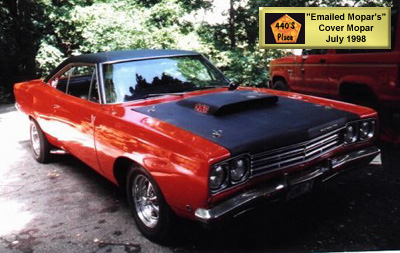 Above: 1969 Plymouth Roadrunner 440 6 pack by Bunky & Karen. Here's the whole story on my car- we're a little proud- could you tell? I sold my 68 396 350hp chevelle before getting married & pouted for a long time until we finally decided to buy another musclecar. I wanted a Hurst olds but being 21 no salesmen took me seriously. We left the dealership & made a wrong turn. I then saw a 691/2 Hemi orange 440 6pk 4spd roadrunner in the Plymouth showroom with the hood on it's roof. I yelled I want that! Not knowing anything about mopars. We bought it & had a blast with it until 73 when the gas crunch & insurance made me sell it for $1250. I then bought it back for $1000 & resold it for $1250 again! A friend bought it but lost the hood to a gravel truck & dumped the 3x2bbls. He sold it to his sister & I lost it. I have wanted another since then. I had been hit by a drunk driver in 92 & just had my 6th surgery on my lower back leaving me disabled able to walk but I must rest often & am at home always. In the hospital my daughter's new boyfriend brought in a picture of a 69 440 Road Runner 383 body with transplanted 440 plus an original Aluminum Edelbrock manifold & 3- 2bbls- the works. I , being on medication from the surgery, bought it there & then for $5000.It was to have been rebuilt with great motor etc. After I got out I saw the beast- rusted rockers, ugly Grey sparkle paint etc. The motor started but blew the breathers off because of the junk heads & needed 1 piston. The boyfriend left & I was stuck with it. I then started the resto. Here's what we had to do & buy. : 4:88 gears, 727 built tranny & converter & Hurst shifter, , rebuilt the 440 .30 over with correct 6pk 10.1-1 pistons, go thru the carbs, new Crane 509 cam & lifters, balance & polish the whole motor, Headers- wrapped & flowmasters with 3" all the way back. New Harwood correct glass scoop hood, repaired the body & painted it Hemi Orange with blk top- Just like the old one I had. MSD ign + rev limiter, shift lite & Accell supercomp monster tack. Thats about it after 5 years I drove it out last week! Whew! I'm gonna rest for a while.
Mopars Featured In The Past: Home

Our archive contains the complete collection of mopar related cars and trucks featured on our network from 1998 to last month. This section contains thousands of Chrysler, Dodge, Dodge Truck, Jeep, Plymouth, RAM Truck and other related mopars submitted by our visitors over the years.
Own a Mopar? Home

Want to see your mopar featured on the Mopars Of the Month site? Visit our "Submit Your Mopar" section to get it added to our collection of cool mopars. You can also use this section to update a Mopar that has already been added.
Search The Mopars Of The Month Archive: