Mopars Of Month Archive: Home
2023

March

Submit Or Update Your Mopar
1955 Dodge C3 Pickup By John Hopper - Update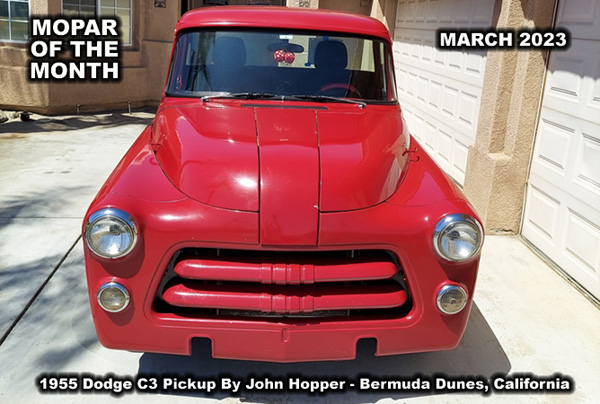 Mopar Of The Month March 2023:
1/31/2023 Update: 1955 Dodge "Job Rated" pickup. Owner built as a daily driver and pro-touring ride. I have owned the truck for 25 years.
Engine: 6.1L Hemi, Spartan Max cam, ported heads, ported intake, FAST EFI 2.0 and XIM ignition. Long block built by Cam at Crank This Performance. SRT radiator.
Wiring: Modified FAST harness for the fuel and Ignition. Custom body harness with Bussmann fuse/relay box and mil-spec circular connectors.
Frame: Heavily modified factory frame boxed and front clipped for independent front and rear suspension with upper and lower "space-frame" structure.
Transmission: 18 spline hemi 4-speed, Lakewood scattershield, aluminum flywheel, Centerforce clutch, hydraulic master/slave system. Hurst competition plus shifter.
Tires and Wheels: Staggered set of factory reproductions Hellcat FR77 wheels 20 x 9.5 and 20 x 11 315/35/ZR20 rear, 275/35/ZR20 front.
Front Suspension: Modified Reilly Motorsports setup with rack and pinion, coil overs, SRT Brembo calipers, SRT rotors and Willwood hubs. SRT swaybar.
Rear Suspension: 2010 SRT Challenger complete rear cradle, coil over conversion, Getrag sure grip with 3.91 gears SRT swaybar and rotors with Brembo calipers.
Fuel System: 16 gallon pro street fuel cell, Walbro 255 in custom aluminum hat and basket, Holley regulator, 1/2" feed, 3/8 return. It is a 16 gallon Jaz pro street fuel cell.
For more information and photos of this cool Mopar: 1

2
Search The Mopars Of The Month Archive: