1965 Dodge and Mopar related trucks featured in the past
Chrysler

Dodge

Mopar Trucks

Other Brands

Plymouth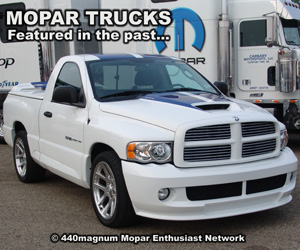 Our 1965 Dodge Truck archive contains a collection of trucks featured on our network from 1998 to last month, these were submitted by our visitors.
Choose a 1965 model below, this collection covers the 1965 year of trucks featured on the 440magnum Mopar Enthusiast Network in past.
Dodge Trucks offered in 1965:
A100
1/2 Ton Panel Van
1/2 Ton Pickup
A100 Van
1/2 Ton Custom Sportsman
1/2 Ton Sportsman
D100
1/2 Ton Sweptline
1/2 Ton Sweptline LWB
1/2 Ton Utiline
1/2 Ton Utiline LWB
D100 Town Truck
1/2 Ton Panel
1/2 Ton Wagon 6 Passenger
1/2 Ton Wagon 8 Passenger
D200
3/4 Ton Sweptline
3/4 Ton Sweptline Crew Cab
3/4 Ton Utiline
3/4 Ton Utiline Crew Cab
D300
1 Ton Utiline
Featured 1965 Dodge Trucks:
1965 Dodge D100 By Edward Salinas
1965 Dodge D-200 Truck By Jenkins Richie
Get your 1965 Dodge Truck featured:
Want to see your Mopar Truck added to 440magnum Mopar Enthusiast Network archive? Visit our "Submit Your Mopar" gateway page to get it added to our collection of cool mopars. You can also use this section to update a vehicle that has already been added.
Search The Mopars Of The Month Archive: